SAFETY POSTER CONTEST
Calling all Kids! Montgomery Transportation Group is excited to announce the 2023 Spring Safety Poster Contest and we can't wait to see your masterpieces. The Safety Poster Contest is a key part of our ongoing efforts to increase awareness of safe driving habits, and who better to showcase this than the little ones we love most. The contest is open to all students grades K-12 with a chance to win a FREE iPAD and $$! See all details below!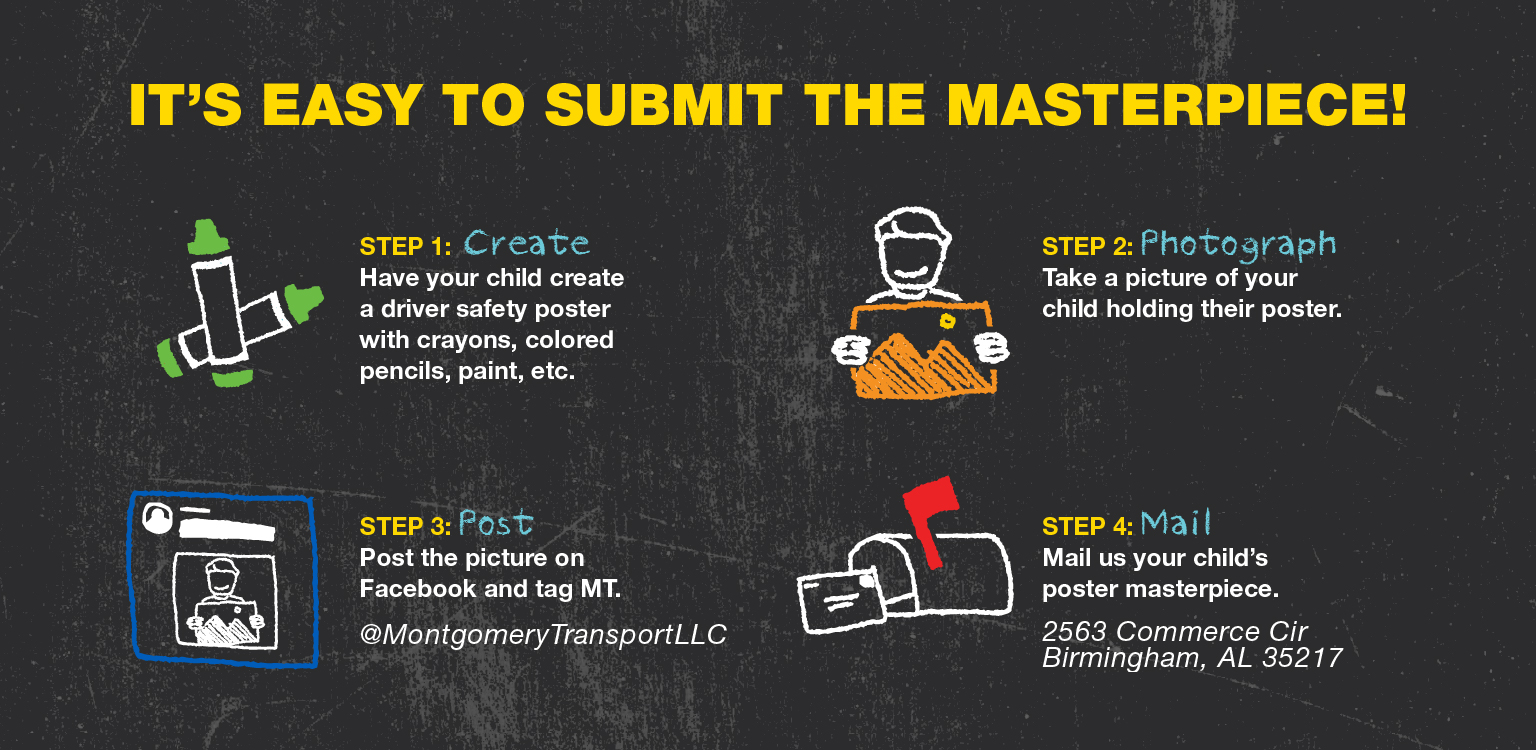 WHAT IS IT?
With safety as one of our most important core values, we launched the Safety Poster Contest not only to increase safety awareness but also as a way to incorporate family to our driver's daily efforts. This contest allows the children of Montgomery Transportation Group to take on an advocacy role for our drivers to help solidify the image of safety through our children's eyes. Students grades K-12 are asked to use their creativity and talent to illustrate the importance of safe driving behaviors on our nation's streets and highways, while also showing how much our drivers are loved and supported by their families back home.
WHO CAN PARTICIPATE?
The contest is open to all children and step-children of Montgomery Transportation Group employees and drivers, grades K-12 (ages 5-18). Employees without children are also allowed to choose a child who plays a significant role in their life to participate on their behalf for those who wish to do so (godchildren, niece, nephew, cousin, etc.). Participants will be grouped into three age groups based on their grade for the 2022-2023 school year, with 1st, 2nd & 3rd place winners chosen from each category.
2022 WINNERS
HOW ARE WINNERS SELECTED?
The photo you post of your MTG KID will be added to an album on the Montgomery Transport Facebook Page for voting. This year, winners will be chosen by the people to make it more fun and add transparency, plus we love seeing the smiling faces of our MTG Kids! Our social media audience will determine who takes home the prizes based on the number of "likes" each Safety Poster receives. Don't forget to POST & TAG!
Artwork of 1st place winners in each category will be framed and displayed in our home office.

ENTRIES DUE
June 16, 2023
Prizes
1st Place: iPad
2nd Place: $250 Gift Card
3rd Place: $100 Gift Card
Contestant Age Groups
K - 3rd Grade
4th- 7th Grade
8th- 12th Grade
PAST SAFETY POSTERS
Artwork Ideas
Properly secured loads
No texting while driving
Wearing your seat belt
PPE requirements
Health tips
Driving in severe weather tips
Thank a Trucker!
Submission
Mail to the Montgomery Transport home office by June 14, 2023.
Safety Poster Contest
2563 Commerce Circle
Birmingham, AL 35217
OR drop off at the front desk
*** If you do not have Facebook, photos can be emailed to kstephens@montgomeryllc.com
Rules & Qualifications
Contestants must be a child, step-child or extended family member of a Montgomery Transportation Group employee. Only employees without children are allowed to choose an honorary child to participate (niece, nephew, grandchild, godchild, or cousin).
Only submit one entry per child.
Poster must be original artwork, not a copy of previous work.
Artwork can be a drawing, painting, collage or any other two dimensional piece of art.
Must be submitted on flat paper no larger than 11x17.
ALL POSTERS MUST BE SUBMITTED THROUGH OUR FACEBOOK PAGE to be included in the voting. If you do not have Facebook, photos can be submitted to kstephens@montgomeryllc.com
Submit original artwork with ENTRY FORM to the home office. Address provided below or
drop off at front desk.
Winners will be chosen through popular vote on out Facebook page.
Submission is not complete until original artwork is received at our home office, along with entry form to the mailing address provided below.
If you have questions, please call (205) 320-6000. All entries must be received by June 14, 2023 and winners will be announced by July 3, 2023 . We are excited to see the results of your children's creativity. Don't hold back! We want to see your BEST and most CREATIVE work.
SUBMISSION
Posters can be mailed to:
Safety Poster Contest
2563 Commerce Circle
Birmingham, AL 35217
OR they can be dropped off at the front desk.