Driver of the Year Award
Mazie T.
Congratulations to Mazie T., 2019 Montgomery Transport Driver of the Year! Mazie has driven almost half a million safe miles since starting his career with MT in 2014 and is a two-time recipient of our driver of the month award. He is a first generation truck driver and loves that trucking allows him to explore and see the world. He enjoys cooking, fishing and spending time with friends and family.
"Mazie has shown that he continues, after years of service, to MT to go above and beyond. Mazie is always someone we can count on to deliver on time and safely. Having Mazie as a coworker makes my job easier each day. Even during the holiday months, he found a way to maximize his utilization for December. Thanks for all you do, Mazie. This is much deserved."
- Jay Dalziel, Driver Manager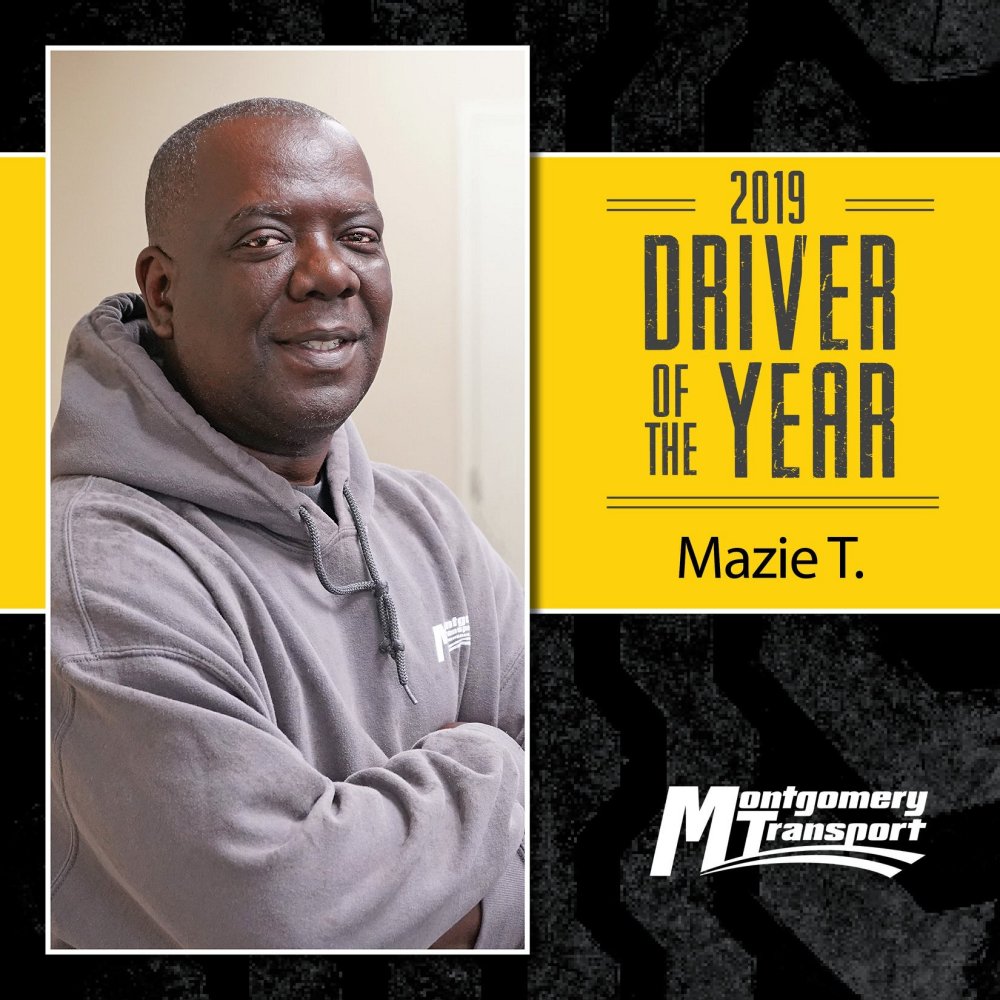 Past Winners
2018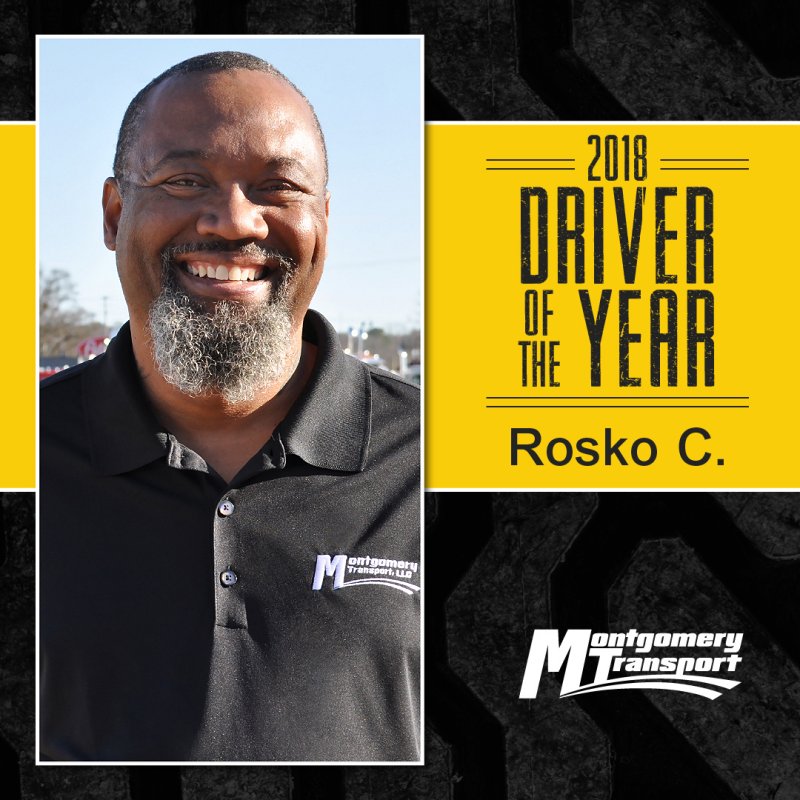 Rosko C.
2017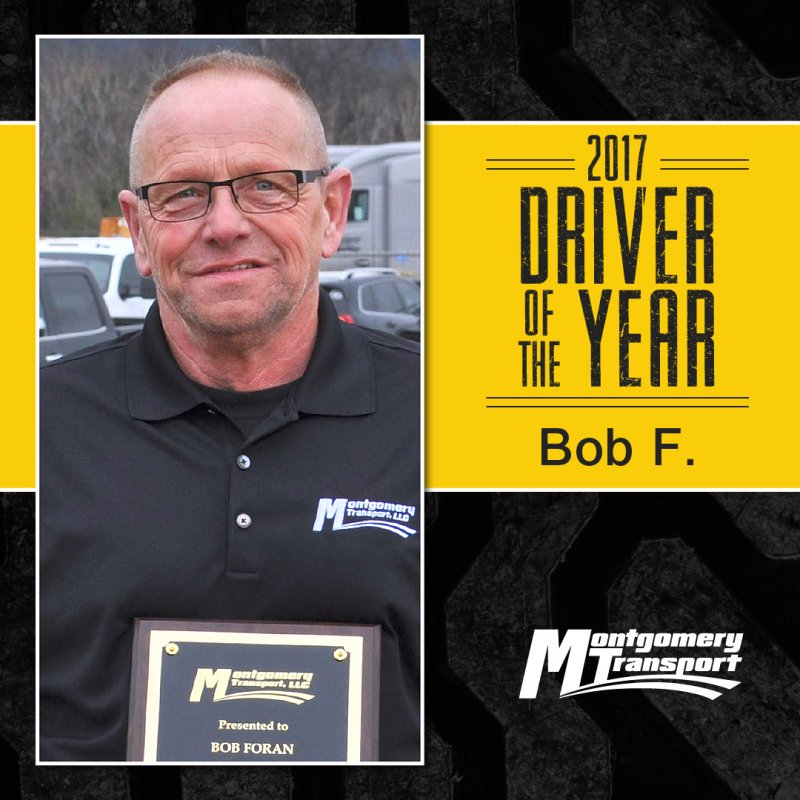 Bob F.
2016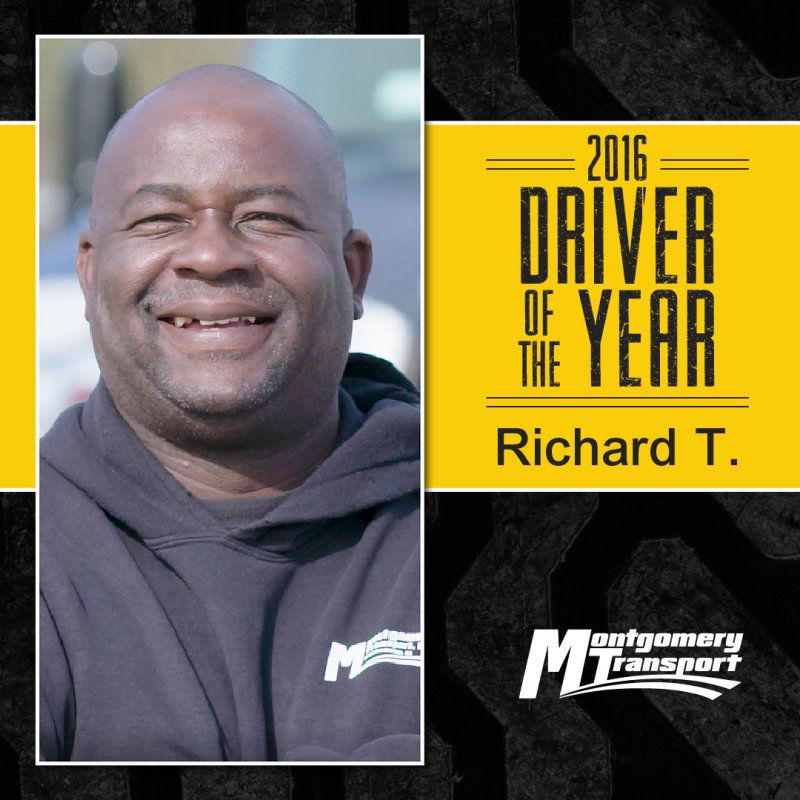 Richard T.
How We Select Driver of the Year
MT's Driver of the Year award is designed to recognize and honor our drivers who have demonstrated superior professionalism, excellence in safety, and have dedicated their time and efforts in all around service to Montgomery Transport and our customers. Each month, driver managers will nominate their two best candidates. Once all of the nominees are turned in, management will review each nominee and determine the winner for our Driver of the Month award. At the end of the year, those 12 Drivers of the Month will become a candidate for Driver of the Year.
Driver of the Year will be provided a beautiful, custom black tractor for daily company use!
Drivers of the Month
The Driver of the Month is selected from the fleet's top performers each month. A Driver of the Month committee, consisting of safety and senior management, reviews the list of top performing drivers and puts them to a vote. The driver with the most votes is deemed Driver of the Month. Each month's driver will become a candidate for Driver of the Year that will be chosen at the beginning of the following year once scores are finalized.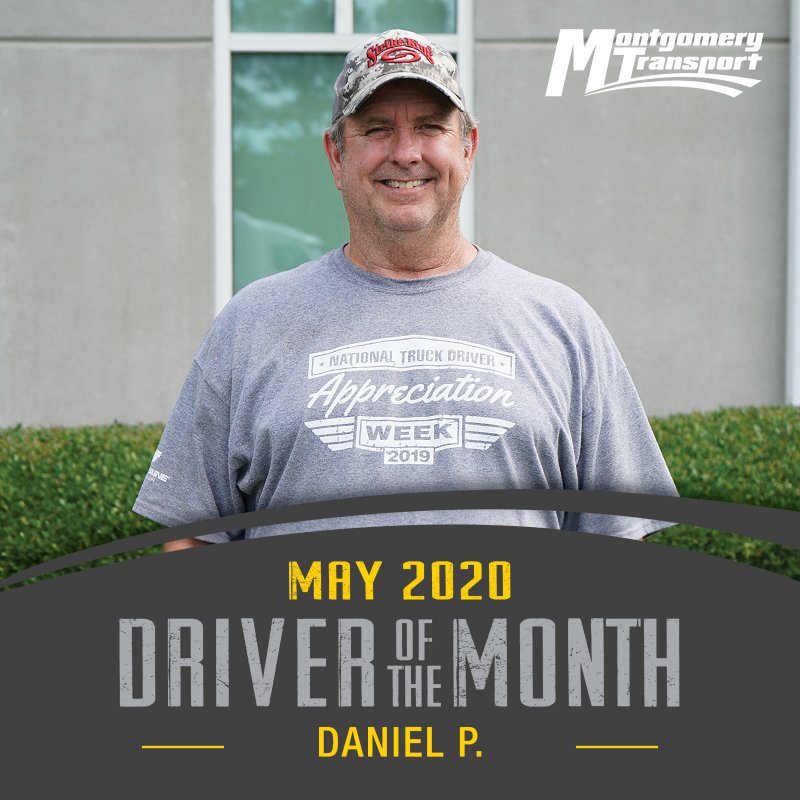 May
2020
Daniel P.
Congratulations Daniel P., May Montgomery Transport Driver of the Month! Daniel has been with MT since January 2019 and has driven 172,731 safe miles.
"Daniel is the epitome of a professional truck driver. He takes pride in his job each and every day. He delivers all of his loads on time while demonstrating the highest sense of safety. I am proud to call Daniel a co-worker and knowing that we have drivers like him out on the road gives me high hopes for the future of Montgomery Transport." - Colton N, Driver Manager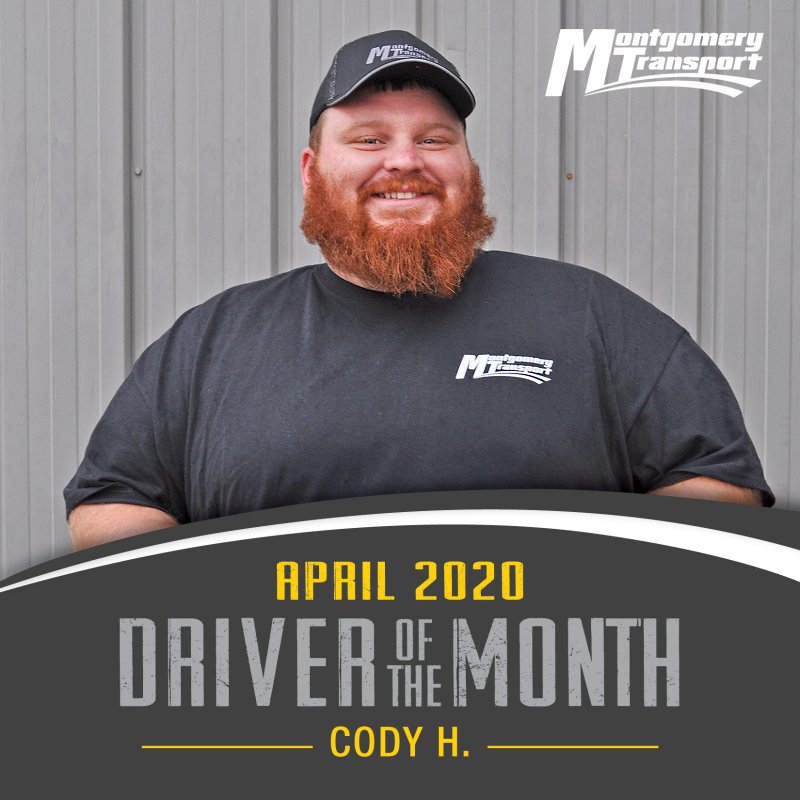 Apr
2020
Cody H.
Congratulations, Cody H., April MT Driver of the Month! Cody has been with MT since November 2019 and he has been a consecutive top performer on the Pay for Performance (P4P) and has driven more than 59,400 safe miles. He enjoys fishing and vacationing in his free time.
"Cody is everything we want in a driver at Montgomery. He brings his A-game every day and always keeps me in the loop when there are any changes. If I could clone him, I would!" - Bruce S., Driver Manager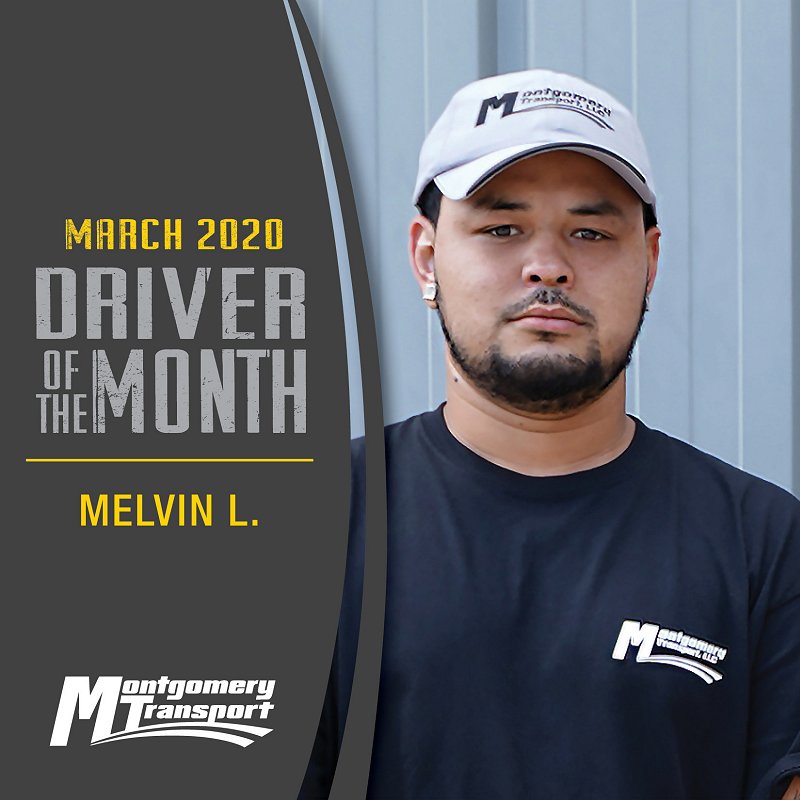 Mar
2020
Melvin L.
Congratulations to the March 2020 Driver of the Month, Melvin L. Melvin started driving for the MT in June 2019 and has driven 110,000 safe miles since then. He has a 6-year-old son and enjoys getting away to the beach when he's not driving.
"Melvin is an absolute beast! Day-in and day-out he gives his absolute best for his craft, and his miles show it. Since starting with MT, he's consistently been a team player and one of the strongest drivers in my fleet. He gets the job done, and does it with a smile."
- Derek T., Driver Manager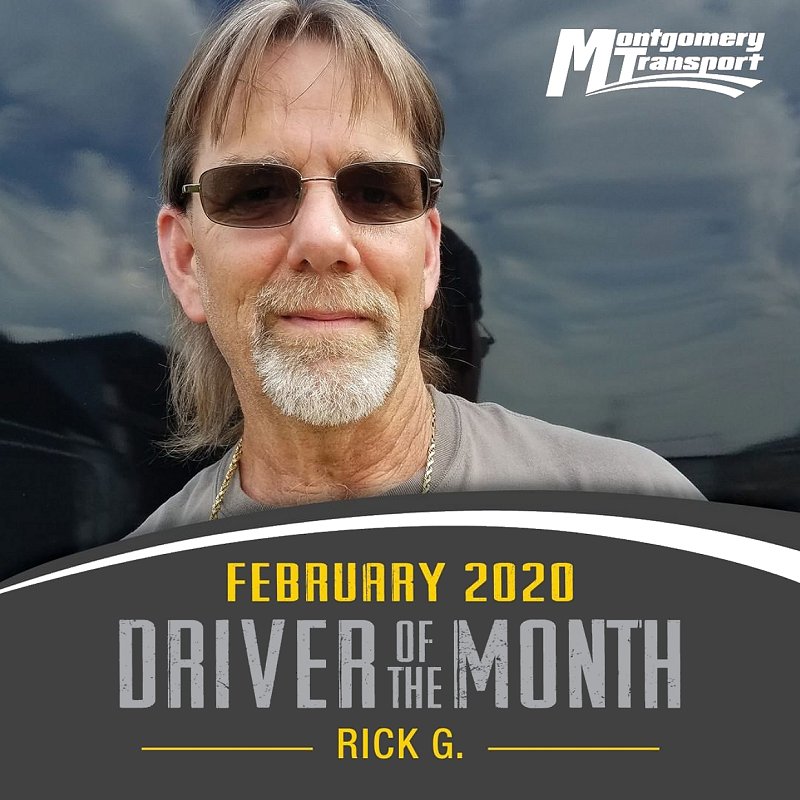 Feb
2020
Rick G.
A huge congratulations to Rick G. as Montgomery Transport's February 2020 Driver of the Month. Rick has logged 620,000 safe miles since joining the Montgomery Family in March 2015.
"Rick is an extremely hard worker and a great driver. I really enjoy having him on my board. My favorite quote from Rick is 'I am unloading and my clock's running. Tell the planners I need a load.' Rick does an outstanding job for Montgomery Transport. Congratulations, Rick, on being the Driver of the Month."
- Darren R., Driver Manager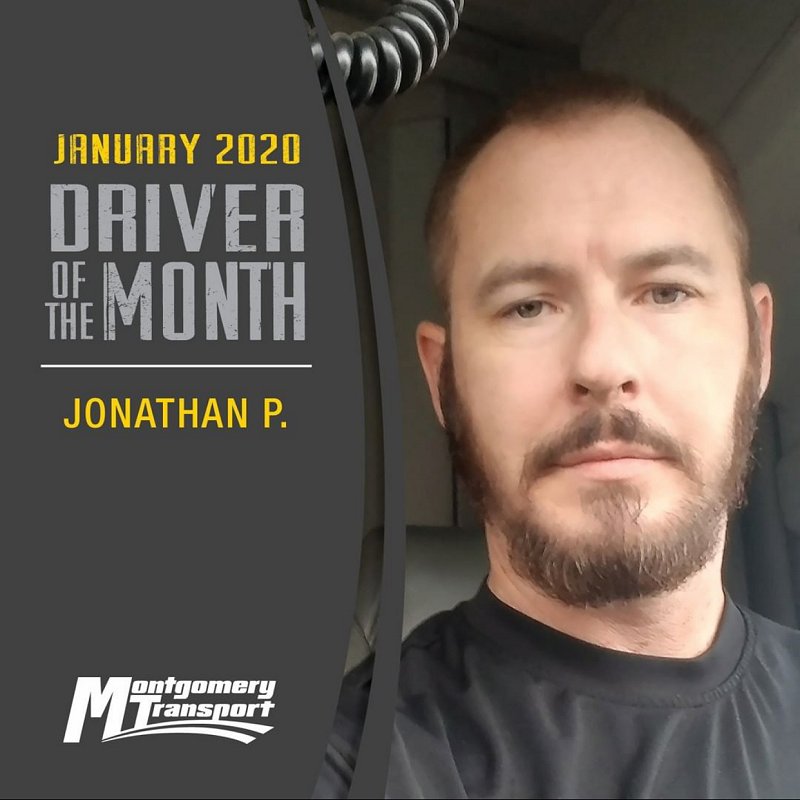 Jan
2020
Jonathan P.
A huge congratulations to Jonathan P. as Montgomery Transport's January 2020 Driver of the Month. Jonathan has driven 76,852 safe miles since starting his career with the Montgomery family in May 2019. He enjoys playing Xbox, archery, and shooting.
"Jonathan is one of the strongest performers on my fleet and continues to progress month after month. I know that I can rely on Jonathan for anything that I need and he will get it done safely."
- Shay R., Driver Manager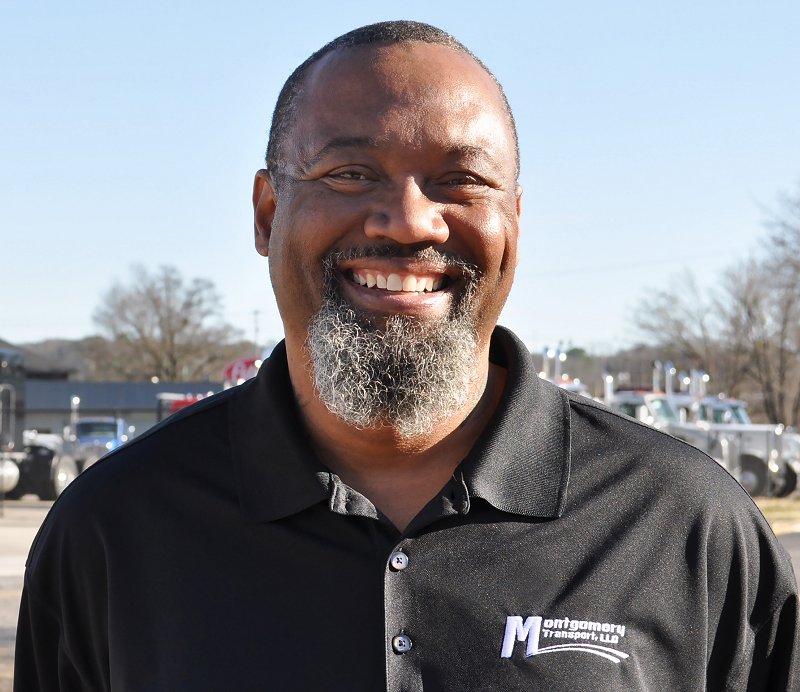 Congratulations to our very own Rosko Craig who was named the 2019 Alabama Driver of the Year by the Alabama Trucking Association. We are so very proud of you!