Road Safety Awareness
The Montgomery Entities are excited to announce our next Safety Poster Contest!
The Safety Poster Contest is a key part of our ongoing efforts to increase awareness of safe driving and the habits that make it possible. Through this contest, we are asking students of our employees to take on an advocacy role and help solidify an image that clearly communicates safety as our most important core value.
We are asking the children and step children of all Montgomery entity employees to illustrate the importance of safe behaviors while driving on our nation's streets and highways. This safety poster contest is open to all students in grades K through 12 (ages 5-18) and lets them use their creativity and talent to help raise awareness of how to stay safe on the roads. The winning artwork will best show that everyone who uses the roads has a role to play in safety.
UPDATE: Due to the recent COVID-19 outbreak our professional drivers are needed now more than ever. We're extending beyond just the safety message for this safety poster contest to allow opportunities for families to also thank truck drivers in their poster message.
Artwork Ideas
Properly secured loads
No texting while driving
Wearing your seat belt
PPE requirements
Health tips
Driving in severe weather tips
Thank a Trucker!
EXTENDED April 30, 2020
Prizes
(in each of the three age categories)
iPad
$250 Gift Card
$100 Gift Card
Award Categories
(each category will receive a 1st-3rd prize)
Category A: K-3rd grade as of June 25, 2019
Category B: 4th-7th grade as of June 25, 2019
Category C: 8th-12th grade as of June 25, 2019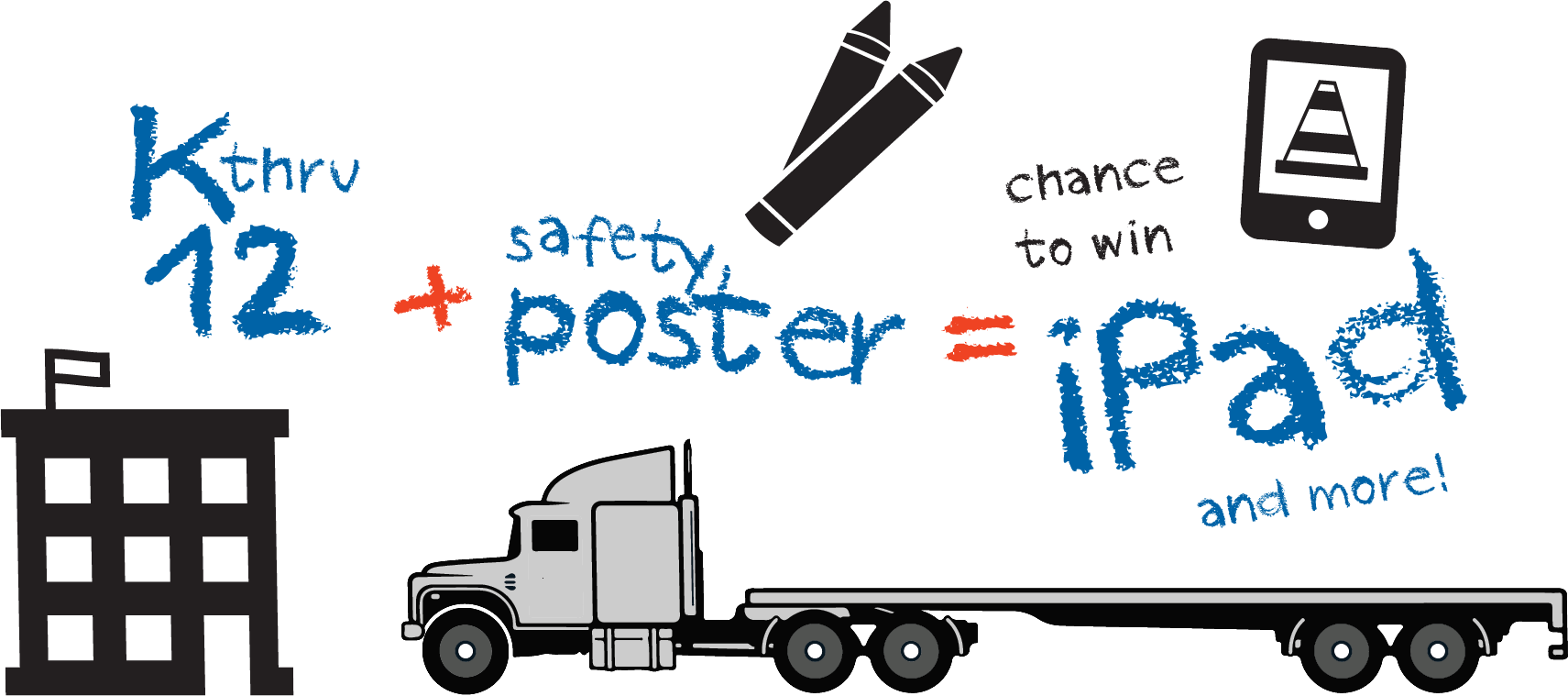 Contest Qualifications
If you have questions, please contact Rebecca Stallings, (205)320-6000. All entries must be received by April 30, 2020.
We are excited to see the results of your children's creativity. Don't hold back. We want to see your BEST and most CREATIVE work.
Submission
Posters can be mailed to:
Safety Poster Contest
Attn Rebecca Stallings
2563 Commerce Circle
Birmingham, AL 35217
OR they can be dropped off to Rebecca Stallings at the front desk
Rules
Must be a child or step-child of a Montgomery Entities Employee
Only one entry per child
Poster must be original and not a copy of previous work
Artwork can be a drawing, painting, collage, or other two-dimensional piece of art
Artwork must be created on a piece of paper no larger than an 11"x17"