MONTGOMERY TRANSPORT CEO, ROLLINS MONTGOMERY, SPEAKS ON DRIVERS' BEHALF ON BECOMING A SHIPPER OF CHOICE
November 19, 2018 (Birmingham, Ala.) Rollins Montgomery, CEO of Montgomery Transport and Entities, was asked by the Journal of Commerce to speak at its Inland Distribution Conference in the Chicagoland area on how to become a "shipper of choice." Montgomery was eager to speak to the audience composed of multiple shippers on behalf of all Montgomery professional drivers. Montgomery stated, "As industry leaders, my primary message to this group is to remember, our most important asset is behind the wheel."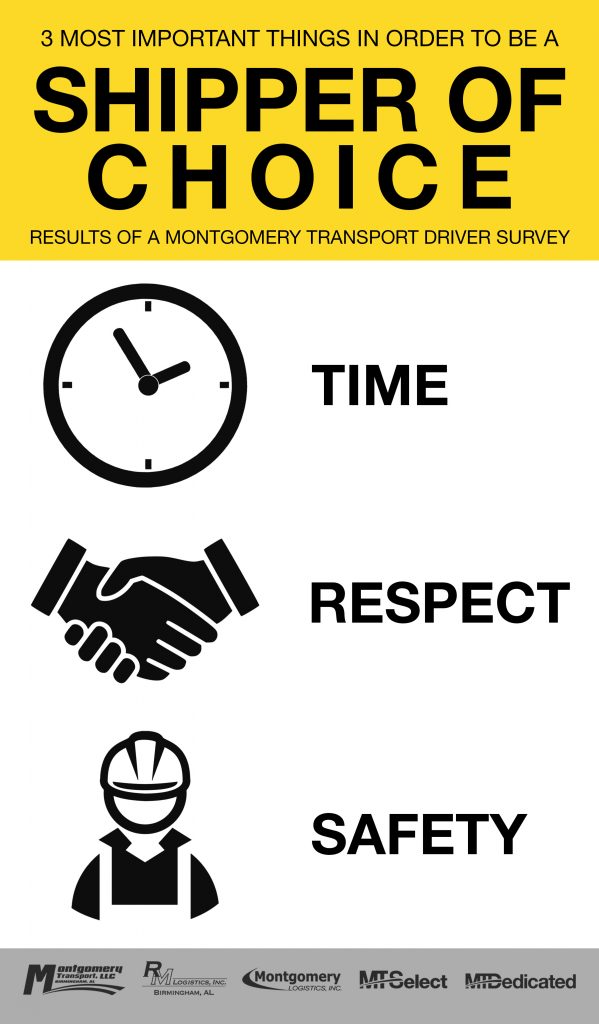 Montgomery Transport recently organized a driver satisfaction survey asking several open-ended questions. One question asked drivers to describe what makes a shipper a shipper of choice. Montgomery noticed a common theme amongst the drivers' responses: time, respect and safety.
More than 90 percent of drivers polled listed time efficiency as their number one means to be a shipper of choice. At the JOC Conference, Montgomery spoke on the importance of building strong relationships with shippers, especially with shippers that understand the true value of our drivers' time. "We have recently begun several initiatives to reduce our drivers dwell time at shippers, such as partnering with shippers on preload programs." Preloading trailers can save six to eight hours of dwell time per order, which makes a significant impact on the driver's day.
Having flexible hours as a shipper, and a consignee are crucial standards to be a shipper of choice. "We talk a lot about dwell time at our customers, but as an industry we do not talk enough about dwell time at our customer's consignees," Montgomery said. "Consignee detention must be more of a focus in 2019. As industry leaders, we must take a collaborative approach to improve dwell time with our shippers and consignees." Shippers need to be prepared to have productive conversations about transportation costs incurred by consignees that delay drivers.
Another highly-received characteristic for a shipper of choice on Montgomery's poll was, respect. "Respect is a core value investment that should be deployed across all segments," said Montgomery. Commonsensical customer service measures such as greeting drivers with a smile will go a long way. This is an area where many shippers must take a top-down approach to assure our drivers get the respect they deserve.
Montgomery emphasized his drivers' feedback of the importance of safety. He challenged the audience and other shippers to assure they were investing in the proper infrastructure to make a safe working environment for our drivers. From the facility itself, to safe loading and tarping areas, more parking, better lighting, and properly trained employees. All safety measures need to be taken and must be a priority to improve the quality of life for our drivers.
At the end of the segment the panel was asked, "What is the one thing you would address to the audience in closing?" Montgomery responded, "The shippers who are taking proactive measures for load and unload times, drivers respect, and safety today will be the shippers of choice for tomorrow."
Montgomery Transport, LLC, based in Birmingham, Alabama is a nationwide, leading flatbed carrier specializing in over-length and over-width hauls. For more information, click here.