A huge congratulations goes out to JOHN K. as MT's September Driver of the Month! John joined MT in February of this year and has driven more than 92,000 safe miles. He has two children and 5 grandchildren. John loves to travel and enjoys outdoor activities such as camping, hiking, rafting and riding his two Harleys.
"John has been a top performer since the day he was hired on at Montgomery Transport. He runs almost every weekend and never turns down a load. I have never heard anything negative out of him and he is always a pleasure to work with. I am very proud of John for his accomplishments thus far and looking forward to see what the future has in store for him. FanSTACHEtic job, John!"
-Aaron Terry, Driver Manager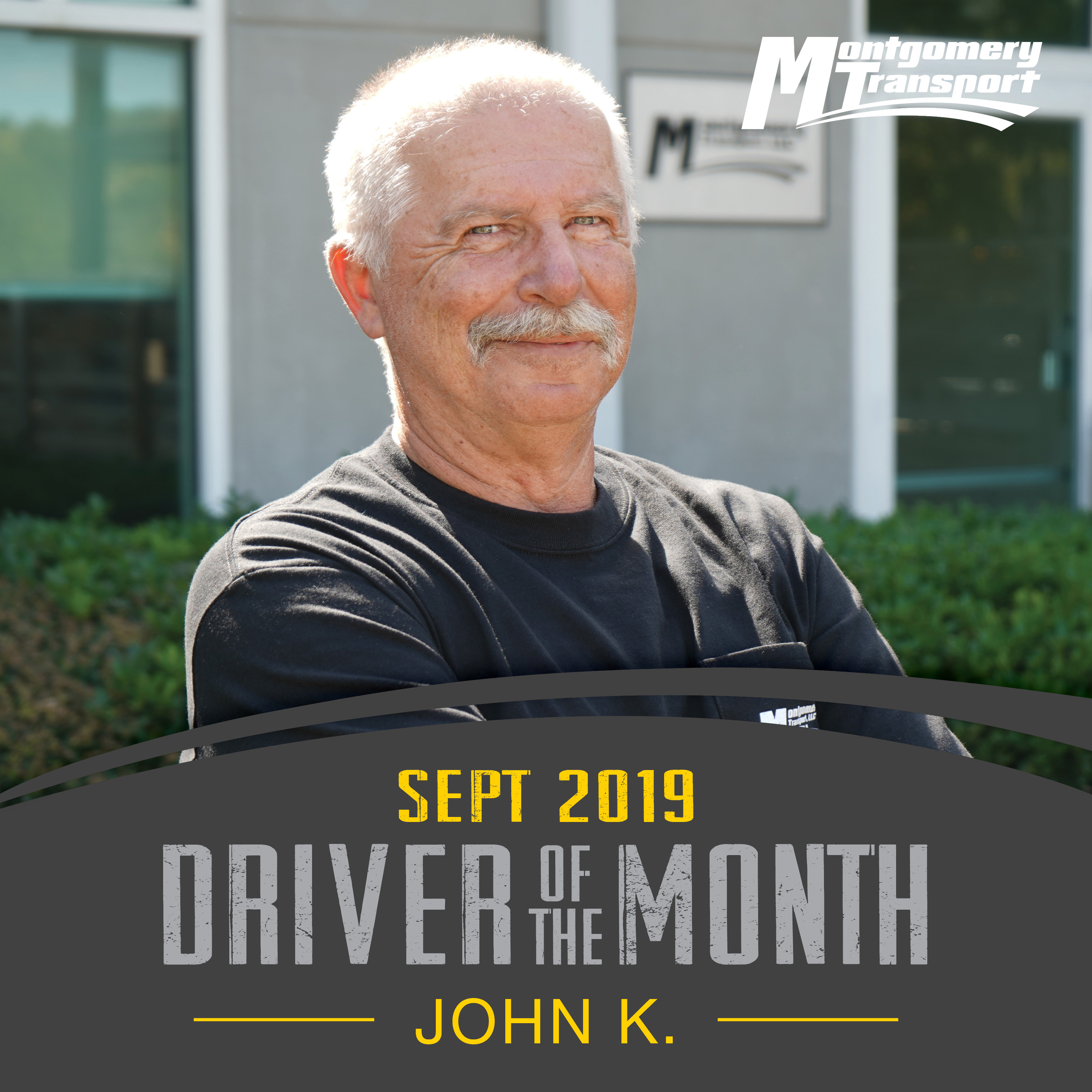 ---
Congratulations to EUGENE G., Montgomery Transport's Driver of the Month for August 2019!
Eugene joined MT in February 2016, has driven more than 488,000 miles and is a proud member of the MT Driver Advisory Board. Eugene is quite the handyman and also enjoys playing the bass, acoustic guitar and spending time with his awesome family.
"Eugene is one of the kindest and hardworking people I've had the pleasure of working with. He does a great job, every day, and does it safely. When I call him with a good load he always makes me laugh by saying, 'Cool, cool!'. I look forward to many more years of working with him."
– Michelle Miller, SR Driver Manager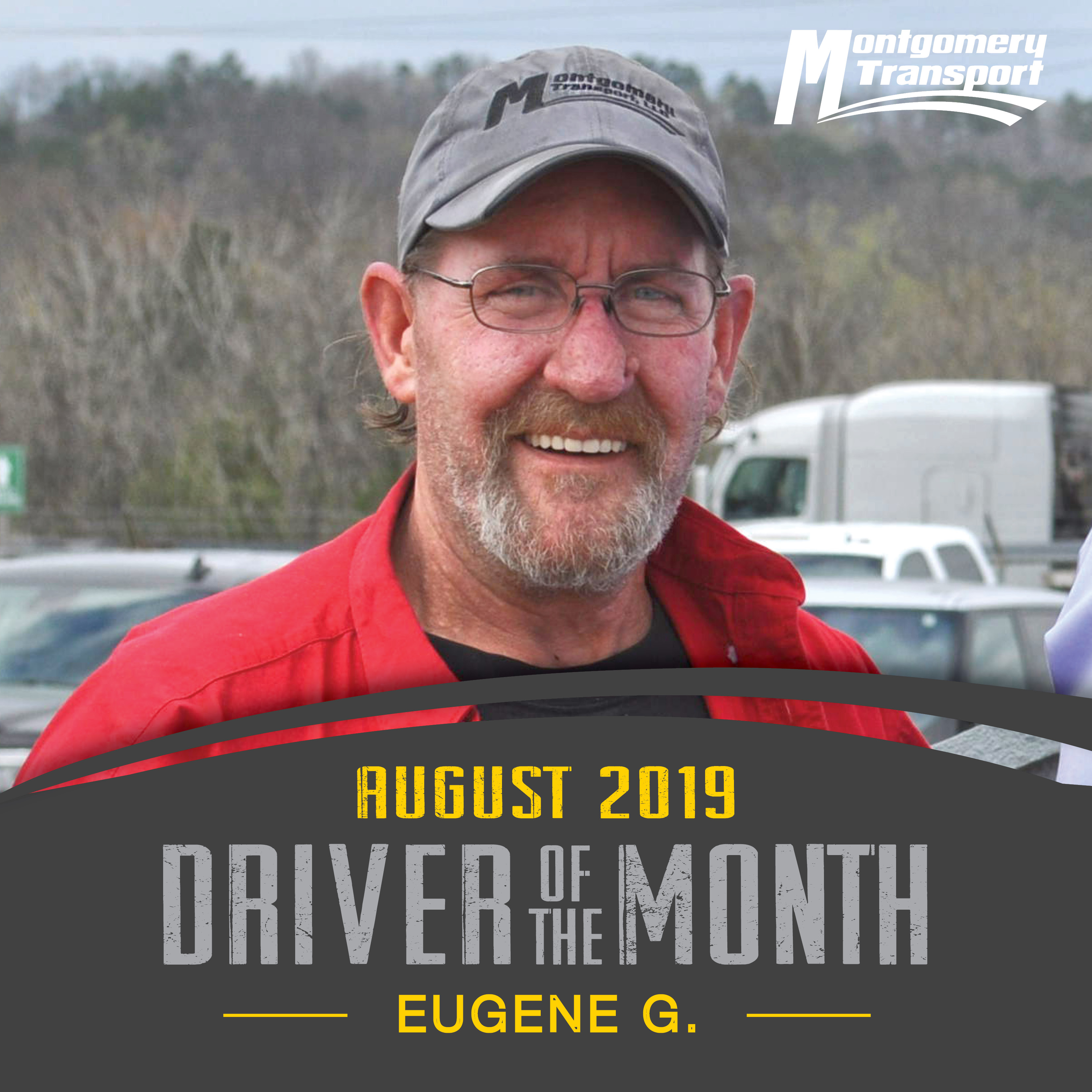 ---
Michael joined the team in December 2015 and has driven over 395,000 safe miles. Michael serves on the Driver Advisory Board and has also been a huge asset to MT Dedicated, filling in when needed, and probably dancing.
"Michael, aka Sunshine, as I like to call him, is a breath of fresh air. He sets the tone for Montgomery Transport every day and you will never not see a smile on his face. I am very honored to have him on our team."
– Shay R., Driver Manager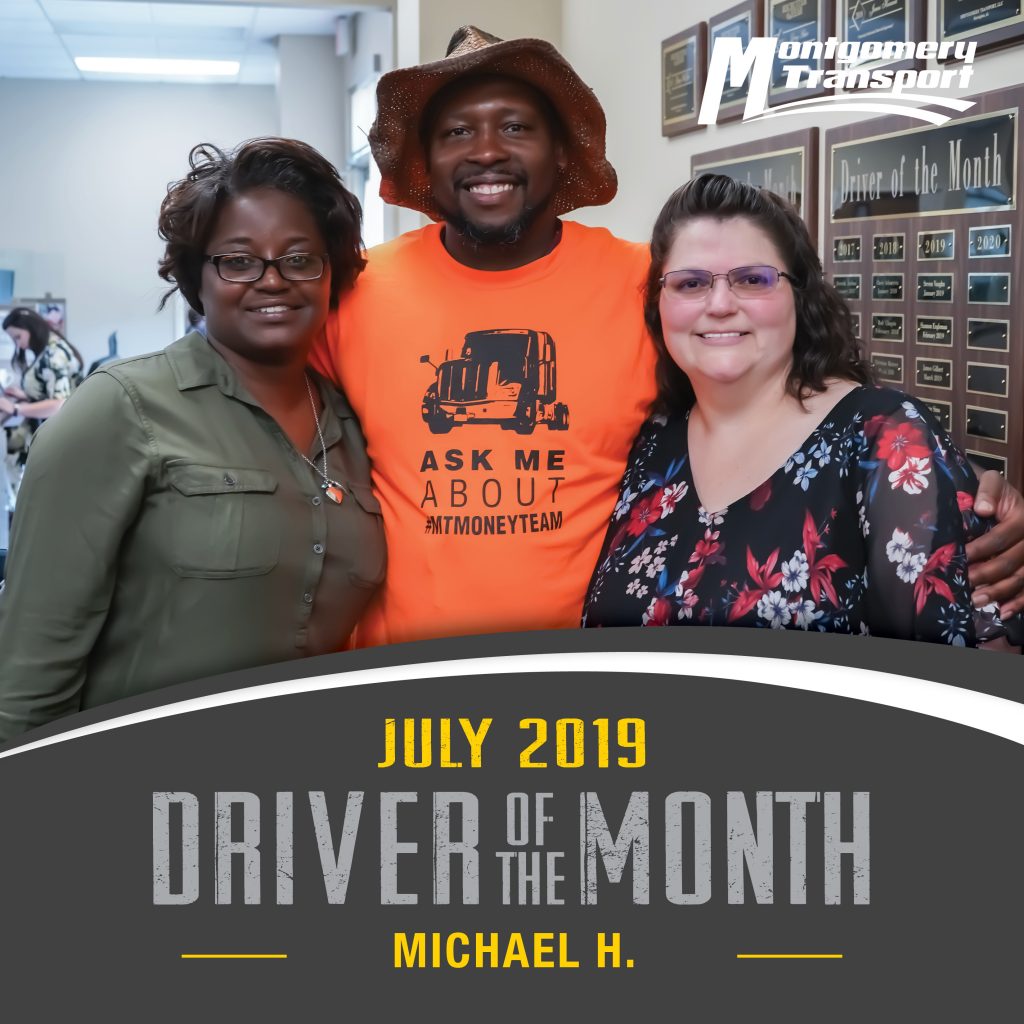 ---
Congratulations to our June MT Driver of the Month, JOHNNY E! Johnny joined the team in November 2015 and has driven 400,000 safe miles. He lives in Mississippi with his wife, Camillia, and enjoys driving his antique 1983 Chevrolet pickup truck on the weekends.
"Johnny is one of the most dependable and hardest-working drivers at MT. He takes great pride in his work and handles each load as if the product is his own. Johnny is a joy to work with and I'm so proud to be his DM. CONGRATS Johnny, you are so deserving of being Driver of the Month."
- Katrece Newton, Driver Manager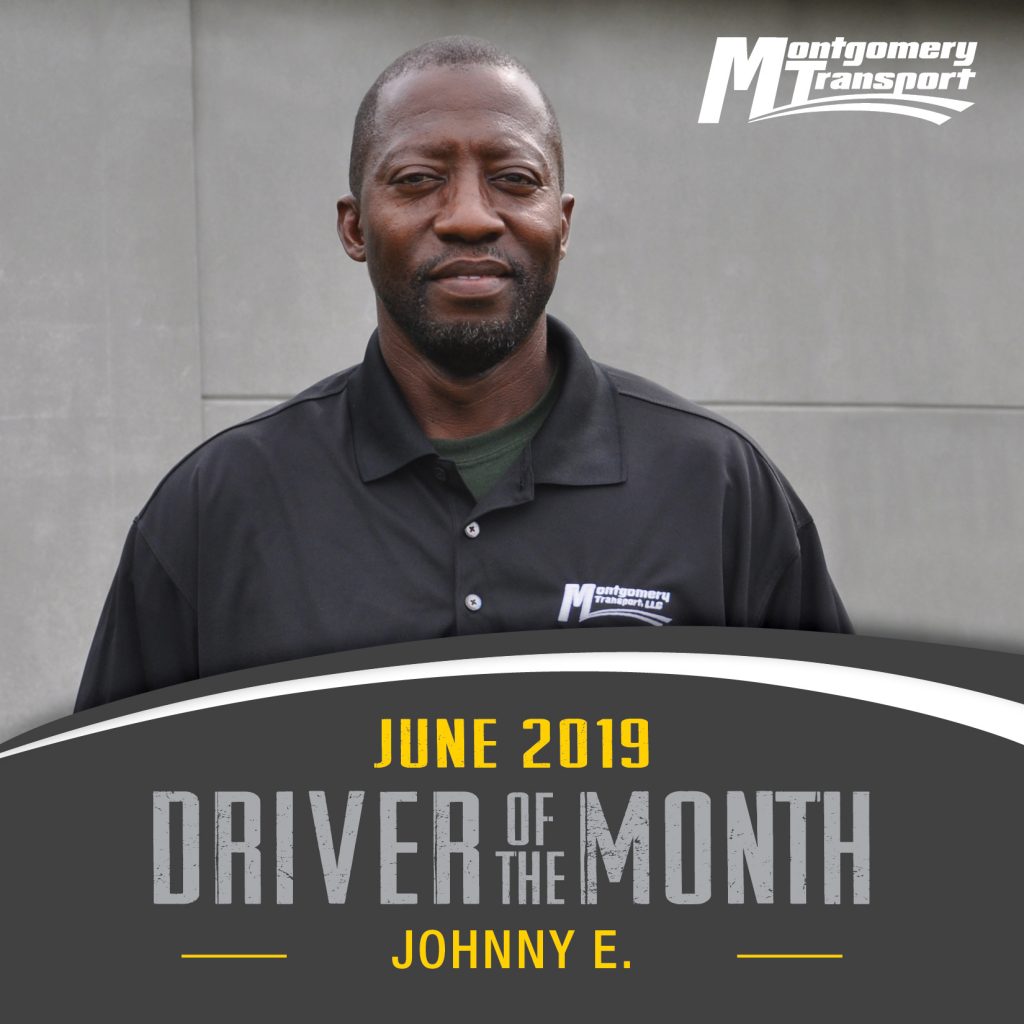 ---
Congratulations to our May MT Driver of the Month, MATTHEW O! Matthew joined Montgomery Transport in November of 2018 and has driven over 77,000 safe miles. He and his wife, Adrea have been married 5 years in July and live in North Little Rock, AR. Some of Matthew's hobbies include poker, fitness, billiards and soccer. His favorite team is the Nigerian soccer team!
"Matthew is one of the hardest working drivers here at Montgomery. He possesses a passion for his job and it shows. His awesome attitude and demeanor are noticed by all who have any interaction with him. Matthew has only been with Montgomery a short period of time, but he has come in and made an IMMEDIATE and HUGE impact on this organization. There is no doubt in my mind that Matthew Ojukwu will be a Driver of the Year someday soon. CONGRATS MATTHEW, I am honored to be your DM!!!" – Katrece Newton, Driver Manager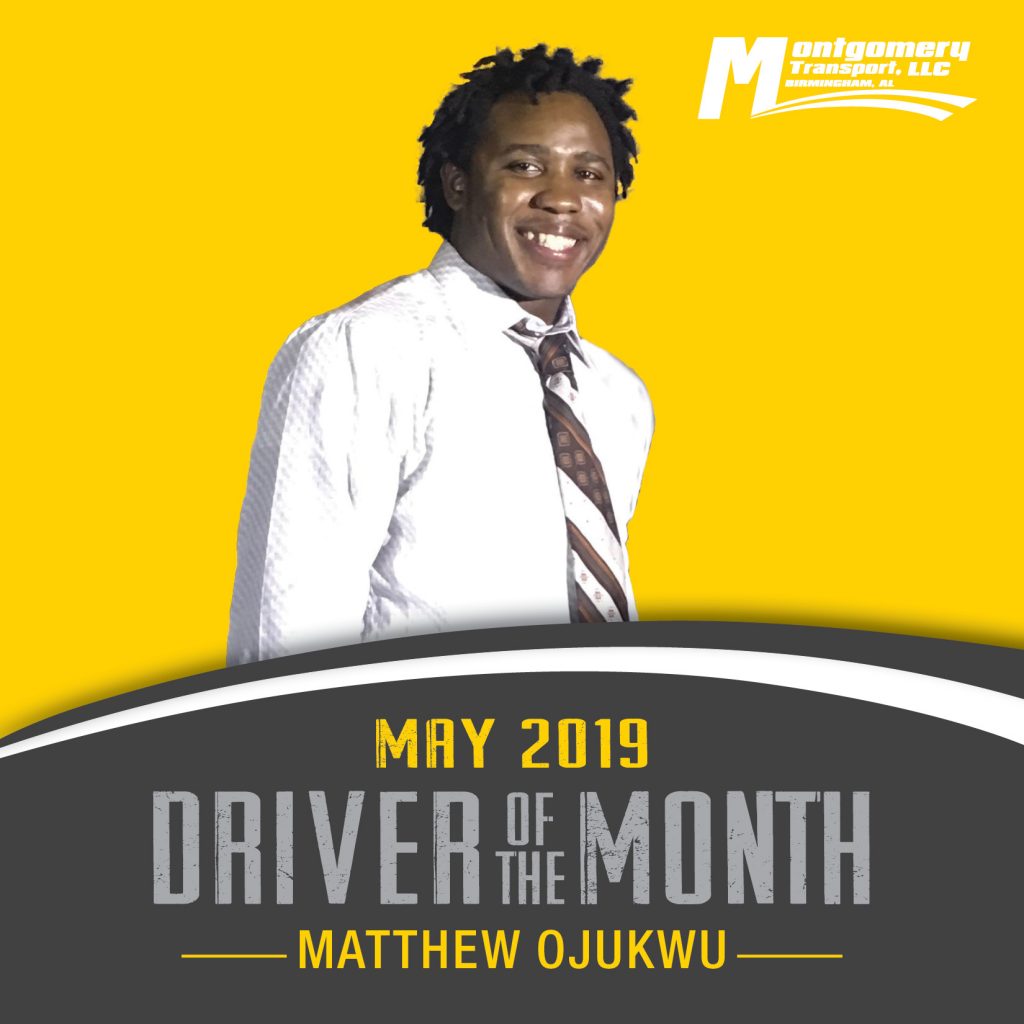 ---
Congratulations to our April MT Driver of the Month, GENE S! Gene has been with MT since June 2015 and has driven more than 500,000 safe miles. He lives in Englewood, OH with his wife Terri. He has 2 girls, Alyssa (31) and Kelsey (28) and 1 grandson, Liam (5). Gene enjoys watching NASCAR and football, but most of all, spending time with family and relaxing.
"Gene is a two-time Driver of the Month winner. He is a privilege to work with, never refuses loads, and always puts safety as his top priority. He's one heck of a person! I couldn't ask for any better."
– Darren Rodgers, Driver Manager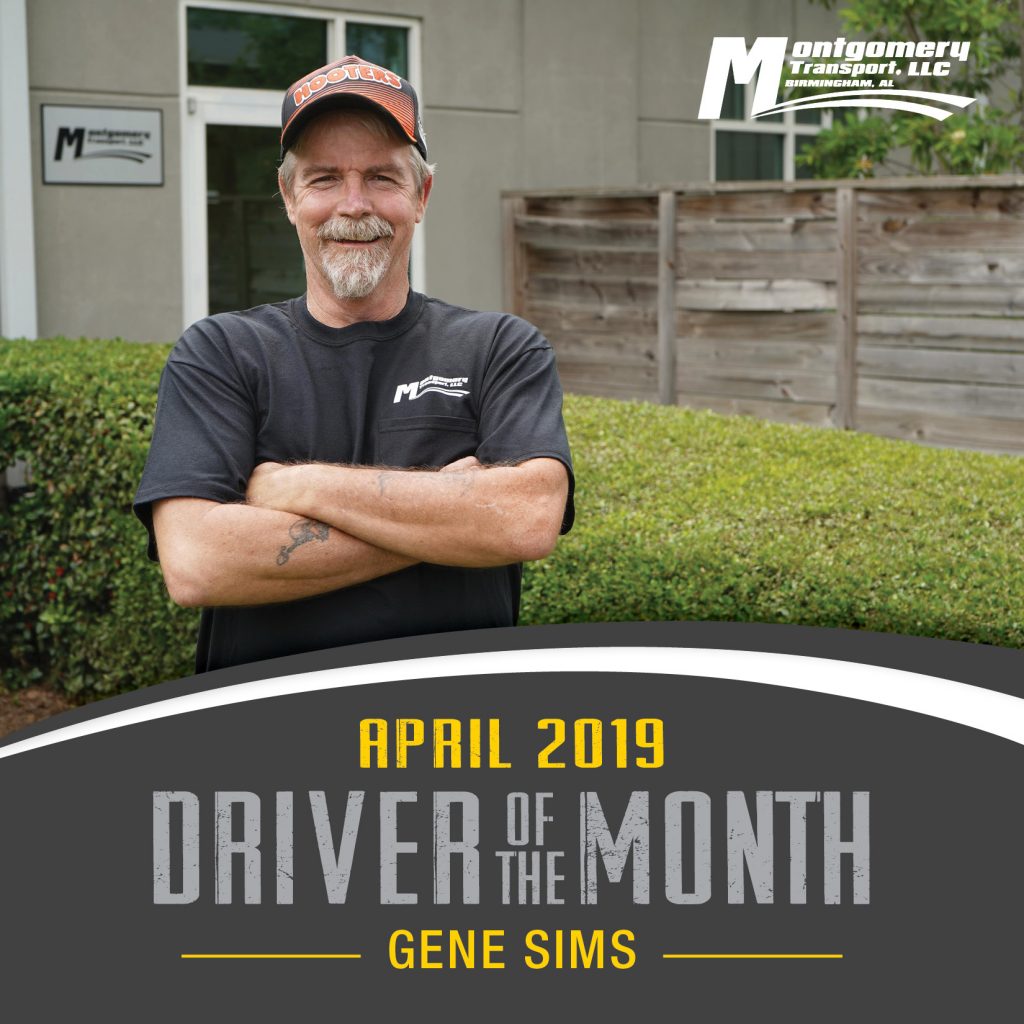 ---
Congratulations to our March MT Driver of the Month, JAMES GILBERT! James started with the MT team in October 2017 and has driven over 173,000 safe miles. James and his wife, Kim, live in Montgomery, AL. They have three daughters, one son and three grandchildren. In his off time, James enjoys hunting, fishing, and golfing with his family.
"James is the kind of driver that every DM wants. He's a "fire and forget" driver. I read over the load info, fire it off to James and forget about it. Forget about it NOT getting there on time and in one piece. Forget about any problems with it overnight. Forget about him saying he can't make it happen. He makes my job a lot easier."
- KT Sanders, Driver Manager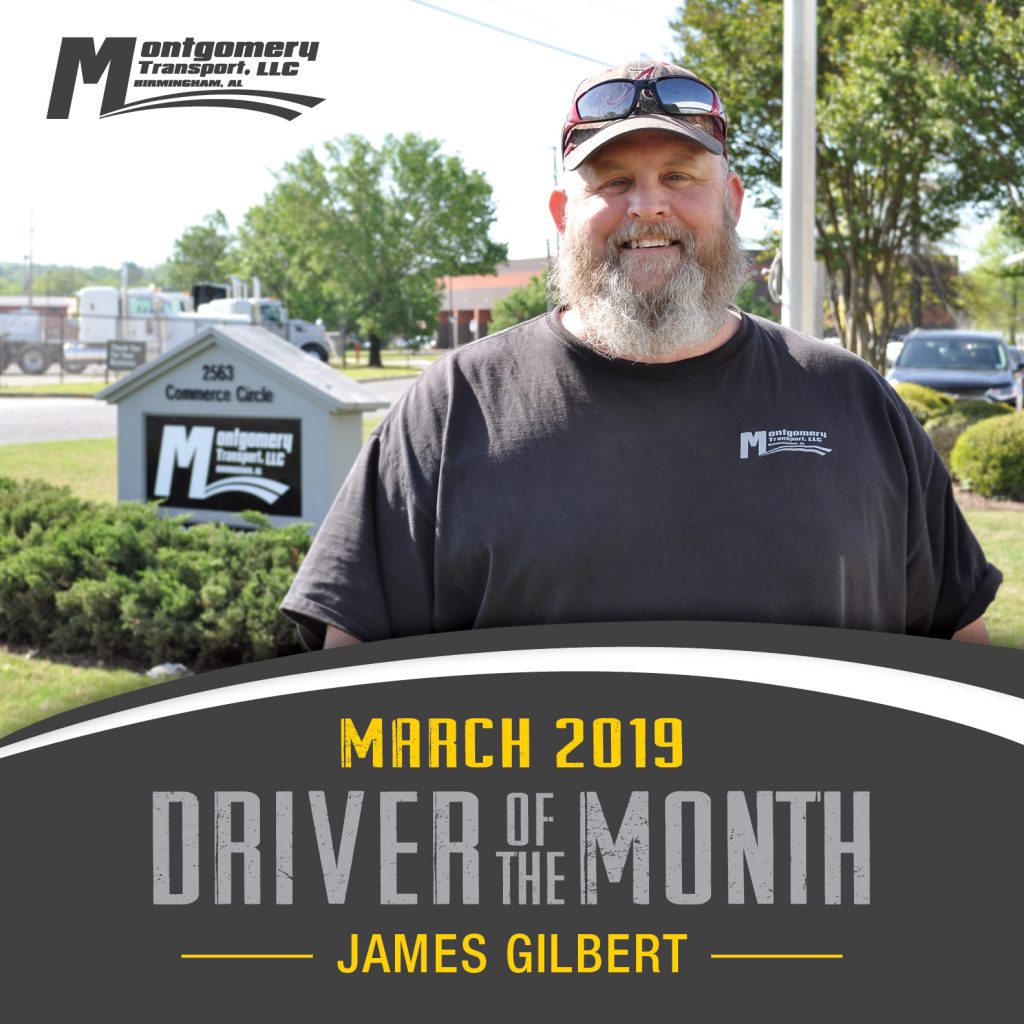 ---
Congratulations to our February MT Driver of the Month, SHANNON ENGLEMAN! Shannon joined MT in January 2018 and has driven over 138,000 safe miles during that time. He and his wife Jessica live in Boonville, IN and in his down time he enjoys hunting, fishing and fixing up an old truck with his son.
"Shannon has always been someone I can count on to go above and beyond for Montgomery Transport. He prides himself on always doing the right thing. He is always there to help other drivers with questions regarding securement, routes, and parking and also in many times has been there to answer questions for me. Congratulations Shannon, this is much deserved."
- Jay Dalziel, Driver Manager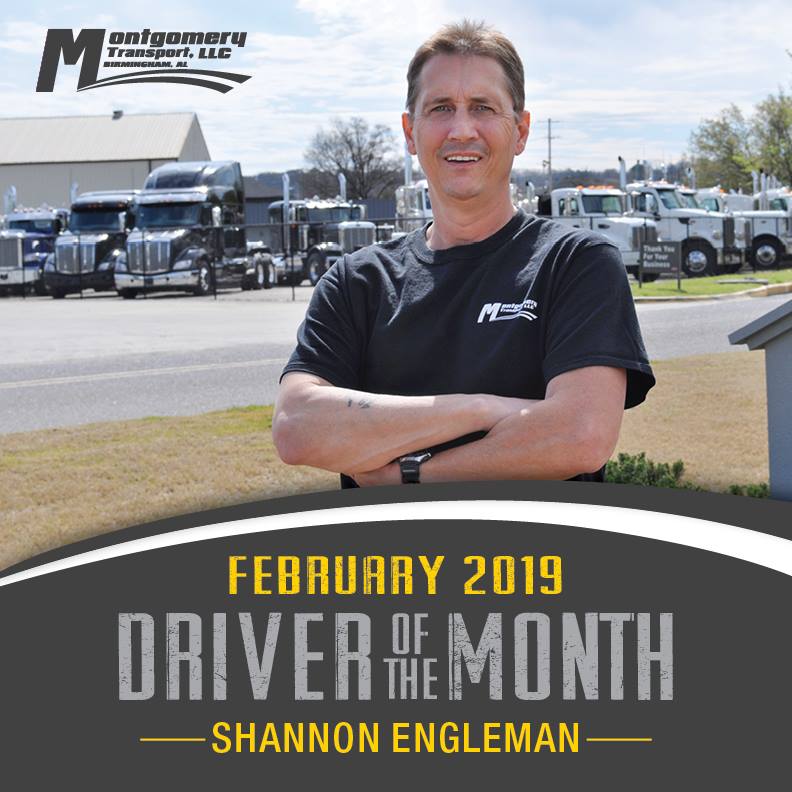 ---
Congratulations to our January 2019 MT Driver of the Month, STEVEN VAUGHN! Steven joined MT in May 2015 and has driven over 418,000 miles during that time. He lives in Gadsden with his wife, Melissa. They have 3 daughters and 5 grandchildren ranging in age from 1 year to 11 years old. In his free time, he enjoys spending time with family, hunting and fishing. He said he loves working at MT because he has the best dispatcher in the universe.
"Steven and I worked together prior to working at Montgomery Transport and knowing what a great driver Steven is, I helped bring him home to Montgomery Transport 4 years ago. Steven makes the job of planning and dispatching easier for both load planners and dispatch as he trusts operations to plan him and get him home when needed. He has a great attitude and is willing to go the extra miles to help out when needed. Steven has proven to be a strong and dependable driver with frequent on-time and early deliveries, great attention to safety, and his willingness to be a team player."
- Melinda Duffey, Driver Manager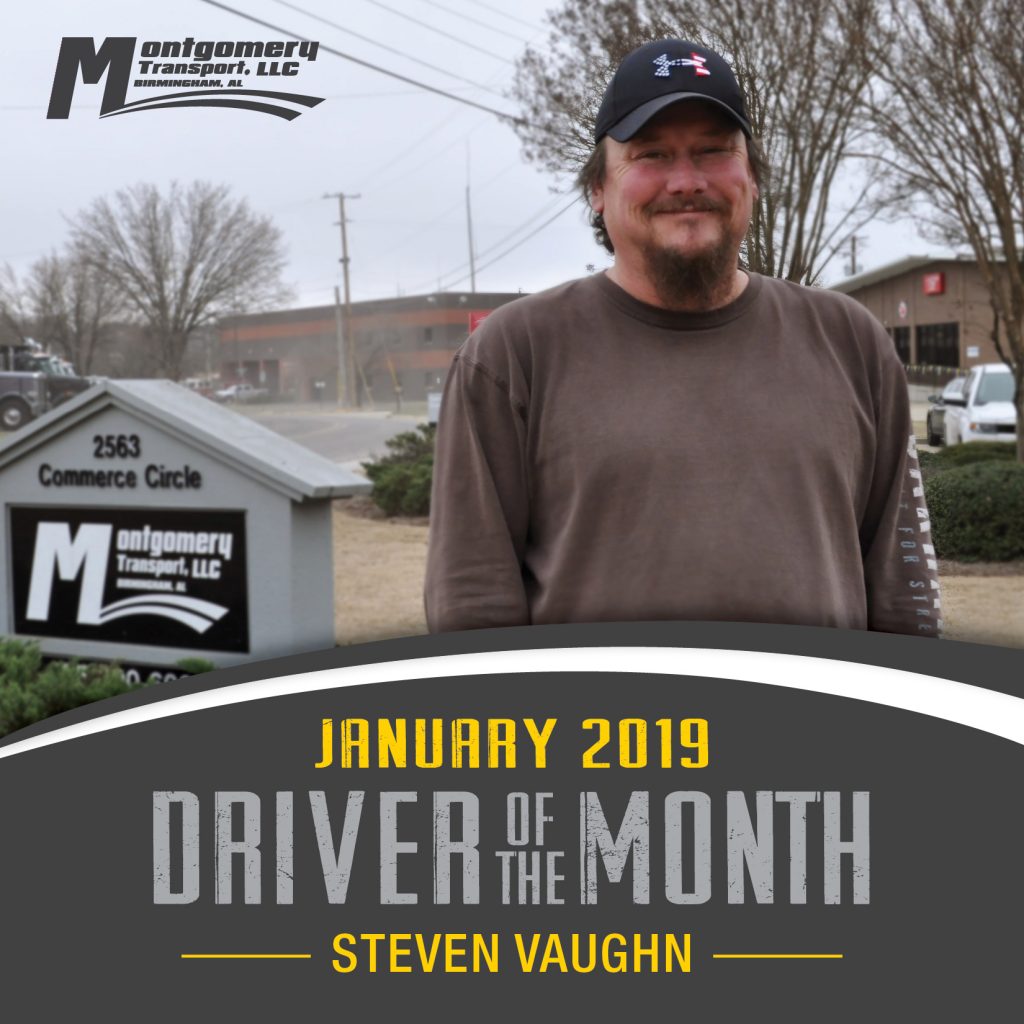 ---