THE PERFECT STORM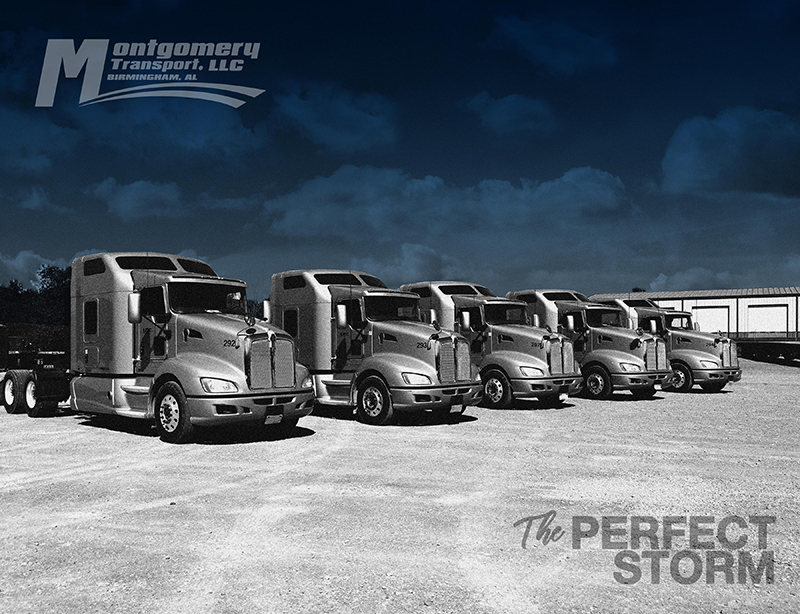 In March 2017, we contacted you communicating our industry's upcoming challenges along with our plan to overcome, embrace and become stronger partners as a result. I would like to personally thank those of you that supported our objectives. Our team works diligently to proactively strengthen and make the proper investments to protect the long-term interest of our valued customer base. While we are seeing the impact of the challenges referenced in our March 2017 letter, I am extremely confident in our position to continue to service you better than ever during The Perfect Storm.
"Our customer partners that support our business today are poised to be successful when the supply chain begins to experience the effects of a business cycle I am calling The Perfect Storm."
– Rollins Montgomery, March 2017
STRONG MARKET
Transportation and logistics markets are entering one of the better cycles we have seen since deregulation. Gross domestic product grew at a 2.6% annualized rate in Q4 2017 and truck load shipments increased nearly 7% year-over-year. Housing starts in 2017 were the strongest since 2007. The Institute for Supply Management announced that their purchasing managers' index (PMI), reached 60.8 in February 2018, the strongest level since 2004. While there are many positive indicators throughout the economy that point towards increased demand, the largest impact will be driven by the lack truckload capacity supply.
DRIVER MARKET
I would like to re-emphasize our biggest challenge, the Driver Market. Despite $10,000+ sign-on bonuses, increasing marginal driver pay growth, and steady freight options in a strong market - turnover has surged and is expected to worsen. Although the current unemployment rate is encouraging to our economy, industries such as construction, manufacturing, oil and gas and transportation are competing for the same skilled labor. For over-the-road transportation it can be challenging to compete when drivers are away from home for weeks at a time whereas other industries' skilled laborers are home every night. Today's driver shortage is over 50,000 and over the next decade, the industry will need to hire 100,000 drivers per year to replace retiring truck drivers and accommodate industry growth.
In October 2017, we instituted a weekly pay guarantee to compensate our professional drivers for circumstances out of their control such as dwell times, mechanical failures, weather and congestion. Just this week, we announced another base pay increase and enhanced our professional drivers extra pay model on tarp, detention and layover. Rest assured, at Montgomery Transport we boldly assume the responsibility of protecting our customer partners against the impact of driver shortages.
ELDs
In December 2017, the ELD mandate took full effect and has already begun to create significant ripple effects across the supply chain. While many fleets have yet to adopt ELDs, Montgomery Transport is 100% equipped and a strong advocate for the mandate. We support the positive impacts it creates for the industry: improved safety performance, reduced liability costs, reduced driver and equipment downtime and improved public safety. ELDs will also provide carriers the ability to track and record the downtime we are experiencing at shippers and consignees, one of our professional drivers' biggest challenges. Rising concerns over enforcement capabilities are beginning to surface, however; insurance providers will be the true enforcers as they will refuse underwriting insurance for carriers that are not 100% equipped. As I referenced back in 2017, insurance rates have risen this year – up to 30% and are expected to continue to climb.
COMING TOGETHER
Now is the time we must work together, recognize these new realities and improve our professional drivers' quality of life. All Montgomery entities are re-evaluating all accessorial costs and other variables that directly impact our professional drivers including: tarp, detention, stop-off, and over-dimensional pay along with shipper & receivers' facility hours.
Shippers who are taking proactive measures for load/unload times, tarping and driver safety today will be the shippers of choice tomorrow. For those that have yet to explore opportunities to become better shippers, we welcome the opportunity to partner with you and work together to improve in these areas. I hope you as a partner see the value in this key process and will join with me in undertaking this crucial development.
THANK YOU
I take great pride in having some of the best customer partners in the industry and I am very thankful for the opportunities you provide Montgomery Transport and our affiliates. We look forward to a mutually prosperous 2018 and beyond. Please do not hesitate to contact me for any reason. Thank you again for your business and support.
Sincerely,
Rollins Montgomery, President